Get To Know "SCORPION POWER SYSTEM"
SCORPION PRECISION INDUSTRY (H.K.) Co., LTD
Your Quality Brushless Power System Provider
In 1987 the Scorpion Precision Industry Co., Ltd. was founded by Georges, an avid RC enthusiast, for the purpose of manufacturing the highest quality glow plugs available for both sport and competition flying. These original Scorpion products received wide acclaim throughout Europe and Asia during the late 80's, and were frequently found in the winners circles of national competitions. Over the years, the Scorpion Company grew and diversified, moving into other areas of manufacturing, but through these changes, Georges maintained his love for the RC hobby, and continued flying and competing.
As the RC hobby evolved and electric power systems became more popular, Georges became interested in electric flight and competed in electric pattern and pylon racing events. Unfortunately, the electric power systems that were commercially available at that time could not hold up the stress of competition, and many flights ended with a trail of smoke coming from the motor, speed controller, and occasionally both. After searching for several years to find a power system that could withstand the rigors of serious competition, Georges realized that there were not that many, and saw this as an opportunity to provide a quality product for electric flyers. To this end, George set aside a portion of his manufacturing facility, hired a team of design engineers, and set forth the following challenge: "Design me a motor and speed controller that I cannot burn up. Find the best materials that are available, and use them to make a motor that can take the heat of competition."
After several years of development and testing, the end result is the Scorpion Brushless Motors and Speed Controllers that we now offer to modelers worldwide. These products can take the heat of competition and come back for more. Our Motors and Speed Controllers are not limited to competition use, and perform exceptionally well in all types of electric RC models.
In the fall of 2006, Scorpion Products were introduced to the modeling public through a series of Beta test programs, and this feedback further refined the product to the finished form that is presented here in this catalog. The first Scorpion products were made available in January of 2007, and they have rapidly become the favorite motors and speed controllers for modelers all over the world.
Pictured above is our new, state of the art, 377,000 square foot manufacturing facility and engineering center, where Scorpion Motors and Speed Controllers are designed and made. This facility employs a staff of over 1000 workers and engineers, and is ISO 9001 certified. Our factory is also committed to maintaining ROHS (Reduction Of Hazardous Substances) compliance on all of our production lines. We still have a diverse product line in other areas of manufacturing, but RC products are what we really love. We have a long term plan to produce the largest selection of brushless motors, speed controllers and accessory products available anywhere, and our commitment to customer satisfaction is our primary goal.
We are so committed of the quality of our brushless motors and speed controllers that we back them with a full 2-year warranty against defects in materials and workmanship. We know that you have a choice when it comes to purchasing an electric power system for your next model, and we are certain that when you consider the Quality, Performance and Value that our motors and speed controllers offer, the choice is obvious: Scorpion.
PRODUCTS
Brushless Outrunner Motors
The new series of Brushless Out runner Motors raise the bar in both quality and performance, and are establishing themselves as the new Gold Standard for model aircraft power! All of the Scorpion Brushless Motors are manufactured from the finest quality components using state of the art CNC machine tools. Every component of the motors are of the highest quality, from the materials used, to the box they ship in. They are designed to provide reliable power for your model aircraft at affordable prices, offering a total performance solution.
Scorpion Motors are designed from the ground up with the best quality components available to provide an excellent value for you, the R/C modeler. The company utilize high quality aluminum alloys that are CNC machined and anodized for a fit and finish that is second to none. Unlike other motor manufactures that use off-the-shelf N50 NdFeB magnets with a maximum Curie temperature of 80 to 100 degrees C, our motor magnets are custom manufactured to be able to withstand temperatures of up to 200 degrees C (392 F) while still providing N50 magnet strength. The wire used to wind the stators is rated to 180 degrees C (356 F), so it can take the heat and keep on performing. This all adds up to a motor that can provide you the power you need, without going up in a cloud of smoke if you push it a little too hard. With all these features, you would expect to pay top dollar for a motor of this caliber, but with the company's efficient manufacturing procedures and streamlined distribution chain, Scorpion motors retail for about 1/2 the price of other "Name Brand" Brushless Motors, making them one of the best overall values on the market today. Scorpion Power System are so confident in the quality of the motors that it is back up with a 2-Year Warranty against defects in materials and workmanship.
The Top Ten Reasons Why You Should Try Scorpion Brushless Motors
Machined aluminum front housing with 5 angled cooling holes that pump air through the motor while it runs.
1. Rear threaded mounting holes with both 16 mm and 19mm hole spacings fit a variety of applications.
2. A machined aluminum cross style mount with hardware and a threaded prop mount is included with every motor, along with a wobbly adapter on select models.
3. Specially designed N50 NdFeB magnets with a 200 C (392 F) temperature rating for trouble-free operation.
4. Durable black Electro-Coat finish on the flux ring to look good for years to come. We also laser engrave our logo and model number on each motor instead of using a sticker to help maintain the balance of the motor.
5. Rear locking ring maintains magnet spacing and also helps to strengthen the rear end of the flux ring assembly.
6. High quality stator plates are epoxy coated on the inner surface to prevent winding shorts. 0.20mm stator plates are used on the 22mm motors, with 0.35mm stator plates on larger sizes.
7. High Temperature 180 C (356 F) rated wire is used for winding the motors to minimize the risk of burning up the motor. The motors are also machine wound to ensure consistant winds.
8. High quality shielded and permanently lubricated ball bearings are used to support the motor shaft in all our motors.
9. High temperature adhesives are used to secure the stator windings and prevent them from shifting and getting pinched or shorting out .
Brushless Speed Controllers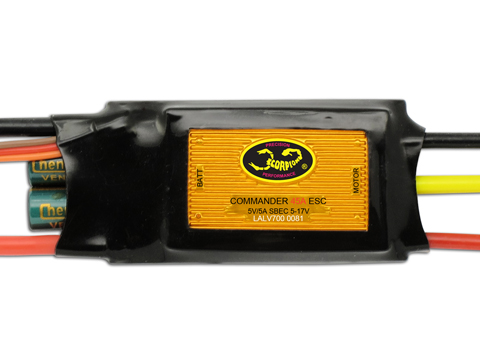 The Scorpion Programming Module is included with every Commander ESC at no extra charge!
Scorpion Commander Series Brushless Speed Controllers represent one of the best values in the speed controller market today. From the beautiful gold anodized heatsinks, to the unique metal containers that the ESC's are shipped in, everything about Scorpion Speed Controllers shows the company's commitment to quality. These ESC's are manufactured from top quality components, in a state of the art manufacturing facility, and are designed to provide years of trouble free operation.
Unlike other ESC manufacturers, who require you to buy an add-on programming module to gain full functionality of the controller, Scorpion provides a full feature Programming Card with EVERY speed controller sold, at No Extra Charge! The adjustable parameters on every Scorpion ESC include: Battery Type, Cell Count, Low Voltage Cut-off Level, Power Cut-off Type, Current Overload Protection, Braking Level, Acceleration Time Delay, PWM Frequency Selection, Timing Advance and Motor Rotation.
Scorpion Speed Controllers also include all of the ESC parameters clearly labeled on the heat shrink assembly. Voltage range, current rating, BEC rating, Ni-XX and Li-Po cell count and input polarity are all clearly marked to avoid any confusion. Scorpion Commander Series Speed Controllers are also backed by a 2 year manufacturers warranty against defects in materials and workmanship.